LIVE AGAIN – Holistic Regeneration through Breathing, Cold and Intermittent Fasting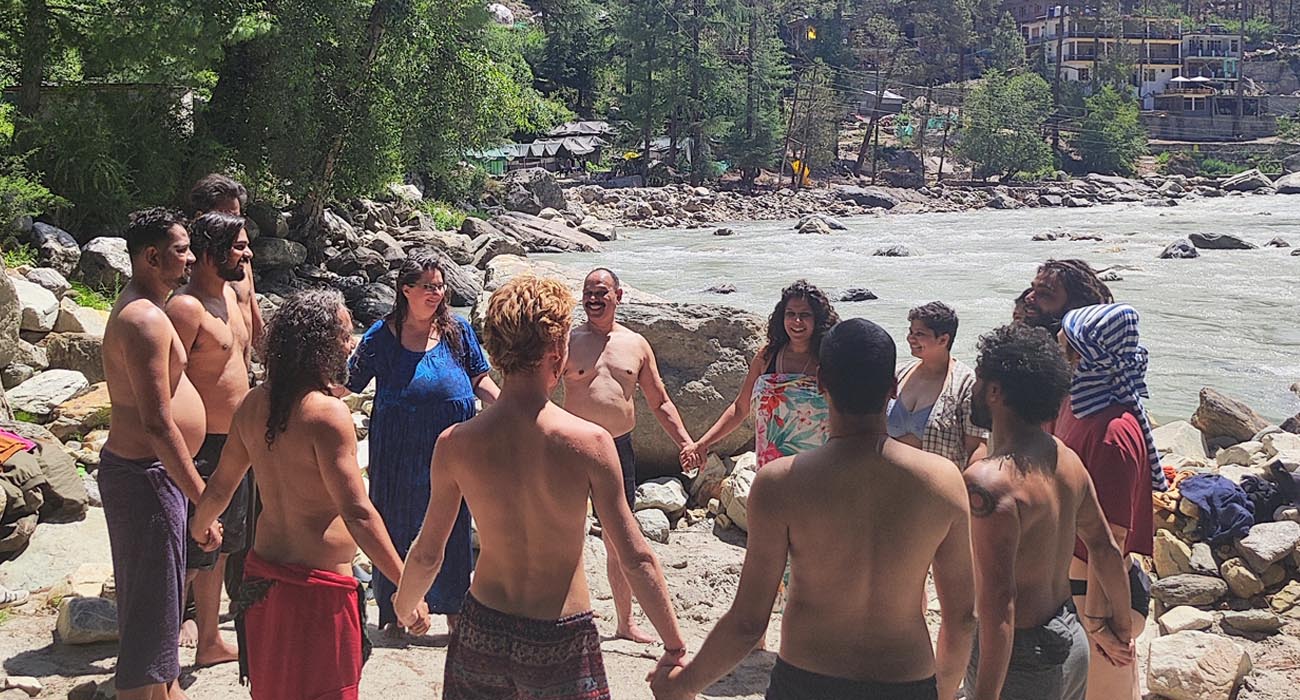 LIVE AGAIN – Holistic Regeneration through Breathing, Cold and Intermittent Fasting
The sedentary lifestyle and mainly disconnected from Nature in today's societies often has a harmful effect on our health. As the years pass, our physical body deteriorates and becomes numb in environments of comfort that soften it. Moreover, accumulated traumas and other repressed emotions damage us from within and often become somatized in the form of illnesses. However, practical wellness tools exist to bring us back to our original state of health.
During this 4-day retreat from December 14 to 18, 2022 with a holistic health objective, we will combine different techniques to regenerate our entire system whether at the physical, mental or emotional level.
The main tools we will use will be the breath (breathwork / breathplay) and voluntary exposure to cold, all in a yogic environment designed specifically to support these practices. We will explore:
different physical postures (asana),

techniques of relaxation (Yoga Nidra), meditation and connection (tantra),

songs,

intermittent fasting with a vegan and gluten-free diet to detoxify our physical bodies.
On a more theoretical side, we will study the effect of these practices at the bodily but also psychosomatic level, focusing in particular on the emotional and traumatic releases that they can trigger. We will thus be able to welcome whatever comes without blocking or repressing and to let go of what no longer serves us.
Finally, the retreat will take place in a small group in order to create closeness, intimacy and a feeling of safety between the participants conducive to greater healing.
Prerequisites
A willingness to take care of yourself holistically is the only requirement to participate! Other than that, this retreat is suitable for people of any athletic and technical level. Complete beginners will discover easily actionable practices to support their health, while the most experienced practitioners will be able to diversify their practice and integrate a greater awareness of breathing and its emotional aspect.
What you will acquire
A greater awareness of your body on a physical, mental, energetic and emotional level;

Simple and powerful breathing techniques that you can easily include in your life to continue to deepen the benefits of this retreat in a completely autonomous way.
What you take home
A detoxified and rejuvenated body;

A relaxed, peaceful, joyful and confident mind;

Experiential and theoretical knowledge of wellness practices;

A summary of the different practices explored;

Recordings to repeat some of the practices on your own.
Which benefits?
All the practices offered during this retreat have many benefits at the physical, physiological, mental and emotional levels:
gives energy;

relieves pain;

promotes fat loss;

accelerates healing;

strengthens the respiratory, digestive, cardiovascular and immune systems;

promotes good health and longevity;

improves sleep, mood, positivity, presence, happiness, contentment, joy and self-esteem;

reduces feelings of depression, anxiety, grief and anger;

facilitates stress management;

stimulates mental focus and attention.
For the curious, a more exhaustive list of these benefits is provided below. The combination of these practices also has a synergistic effect which further improves their effectiveness, and the aspect of emotional awareness will allow you to develop a greater emotional granularity and understanding of yourself.
Indicative schedule
8h-12h morning practice: Yoga, breathing and exposure to cold
12-3pm lunch and free time
3-4pm theory and discussion
4-6pm afternoon practice: cold exposure and meditation
6-7pm sharing and discussion
7-9pm dinner
9-10pm devotional songs (kirtan) or massage
Useful information
Date
This 4-day retreat will take place from December 14 to 18, 2022. We will begin activities on Wednesday 14 after dinner, and we will end on Sunday 18 in the early afternoon.
Venue
The retreat will take place at the eco-place Ô Saveur de l'Instant in Saint-Usuge in the Jura, which describes itself as "an oasis where you can find the essentials and take a break in consciousness and in Nature, an area at the heart of the countryside, carefully renovated ecological buildings to support your practices, an environment conducive to sharing, a caring space to meet and explore and unspoiled nature to recharge your batteries".
Contribution to costs (without accommodation nor food)
200 € before 15/10
250 € before 15/11
300 € from 16/11
Group offer
-15% for 2-3 people
-25% for 4-5 people
-35% for 6-7 people
-50% for 10+ people
Different food (2 meals) and accommodation options are available from €255, you can contact the eco-site directly to make your reservation.
Facilitator
Dr. Hanuman
Dr. Hanuman is a breathwork coach and facilitator of yoga, meditation and cold exposure. After a career in quantum physics research in France, England and Germany, they chose to pursue their discovery of the universe through an experiential exploration of consciousness via Yoga and spirituality. This led them to live in India for almost 3 years to study and share different modalities of bodily and mental practices including physical yoga, meditation, traditional and contemporary Tantra, Eastern philosophies, physiology, fasting, massages (Thai, Ayurvedic yoga, myofascial and tantric) as well as ancestral and modern breathing practices (Indian and Tibetan Pranayama, Wim Hof, Tummo, circular breathing, etc.), traumatic treatments and exposure to extreme temperatures (sauna, bath ice cream…) which became his speciality. Now back in France in their birth country, Dr. Hanuman continues their approach of sharing based on gradual and chosen intensity, pleasure, acceptance and compassion. In their sessions, each instruction is an invitation and everyone is free to follow their own pace.
Their motto is "Explore, Learn, Grow & Share".
Participants feedback
"Hanuman is an incredible guy! I took a course with him and change my life through the breath work experience!
also is a very good yoga teacher and masseuse. I highly recommend Hanuman if you want to go deep into yourself!" Santi, Argentina
"I enjoyed breath work with Hanuman very much. First of all he is very kind and gentle human being. Course was very practical, well planned. I enjoyed the different Yoga styles and chakra Yoga. Atmosphere was comfortable and friendly. Food was very good.
" Yugesh, India
"3 things I especially enjoyed:
1. The flow and sequencing of all the sessions. It all made perfect sense as a whole to me.
2. Integrating yoga practice. Made me connected with my body so much stronger. Also I liked the flow of breathing-yoga-breathing, not as separate practices but again, as a whole.
3. Your gentle guidance, openness to talk and answer questions, never giving us the feeling of rushing (something I would sure like to learn from you
).
All in all it was really great, you're a very good guide and I feel that everything you presented to us was backed by a lot of personal experience, not just theory, which I find one of the most (if not the most) important qualities of a good teacher.
Thank you so much!
Jai Bholenath
" Kat, Poland
"The course is well designed and it has a good flow. All in all a very positive and informative course. Wonderful job holding space." Raven, Iran & Canada
"I really enjoyed the yoga (the moon salutations were so cool!), your time management was on point, and your obvious passion and enthusiasm for breathwork shone thru
you were clear and I felt that you make a great teacher
Amazing job dear I really enjoyed it" Arija, USA & Lithuania
"Honestly I usually have lots of constructive criticism but I can't think of much when it comes to your course...
What I especially enjoyed:
1. The food!
2. Incorporation of yoga
3. Your humbleness and openness" Krupesh, UK
"I enjoyed course, it's useful, filled with different practice, and you are confident about all that you are showing
It feels immediately, that you practicing all of it yourself, not just googled it day before course) so any questions will be answered from science and personal experience prospective
I admire your work to send us all links and list of all we've done
"
Sasha, Ukraine
Speakers
Pour tout renseignement
& pour vous inscrire au stage contacter l'organisateur :
Dr Hanuman : 06 66 78 50 60.